Stiebel Eltron UK announced as a finalist in prestigious H&V News Awards
Leading green technology manufacturer, Stiebel Eltron UK, has been announced as a finalist in the prestigious H&V News Awards.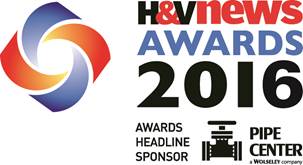 The awards, which are the longest running awards in the industry, recognise excellence, innovation and the highest achievements across the heating, ventilating, air conditioning and building services supply chain. In the 2016 H&V News Awards, Stiebel Eltron UK has been shortlisted for three of its recent projects in the Renewable Project of the Year category.

Stiebel Eltron UK has been recognised for its ongoing work in helping the National Trust to achieve the aims of its recently-launched 10-year 'Playing Our Part' strategy. Stiebel Eltron has provided heat pump technologies for a range of historic properties in North Wales which has included the first ever installation of the a marine source heat pump at the magnificent stately home Plas Newydd together with installations at National Trust farm houses in Bedgellert.

Stiebel Eltron has also been recognised for its work with Castle Howard Estates Ltd – which saw the manufacturer install ground source technology in seven properties on the estate – helping to reduce the amount of energy used by all seven properties and future proof against rising energy costs for Castle Howard Estates Ltd and its tenants.

Finally, Stiebel Eltron UK was also shortlisted for installations undertaken at a luxury, state-of-the-art housing development in Saham Toney, Norfolk. Stiebel Eltron UK air source heat pumps have been installed in every one of its 29 new-build properties, providing home-owners with ultra-efficient heating and reduced energy bills.
Mark McManus, Managing Director of Stiebel Eltron UK, said that news of the Stiebel Eltron being a finalist in the H&V News Awards is recognition of the company's continued investment in new technology and customer service.

Mark said: "2015 was a fantastic year for Stiebel Eltron, with the company experiencing significant growth across the UK. Stiebel Eltron has invested significantly in creating some of the best technology in the market place. We also strive to continually improve our customer service. Our superior technology combined with high levels of customer care means that we are involved with some of the most advanced installations in the UK. The Stiebel Eltron team is looking forward to the H&V News Awards ceremony and very much hope to be announced as a winning team on the night."

The H&V News Awards will take place on the 21st April at the Grosvenor House Hotel, London.