08.12.2015 – Stiebel Eltron UK reports a 38 per cent increase in sales in 2015
Plus new National Trust project completes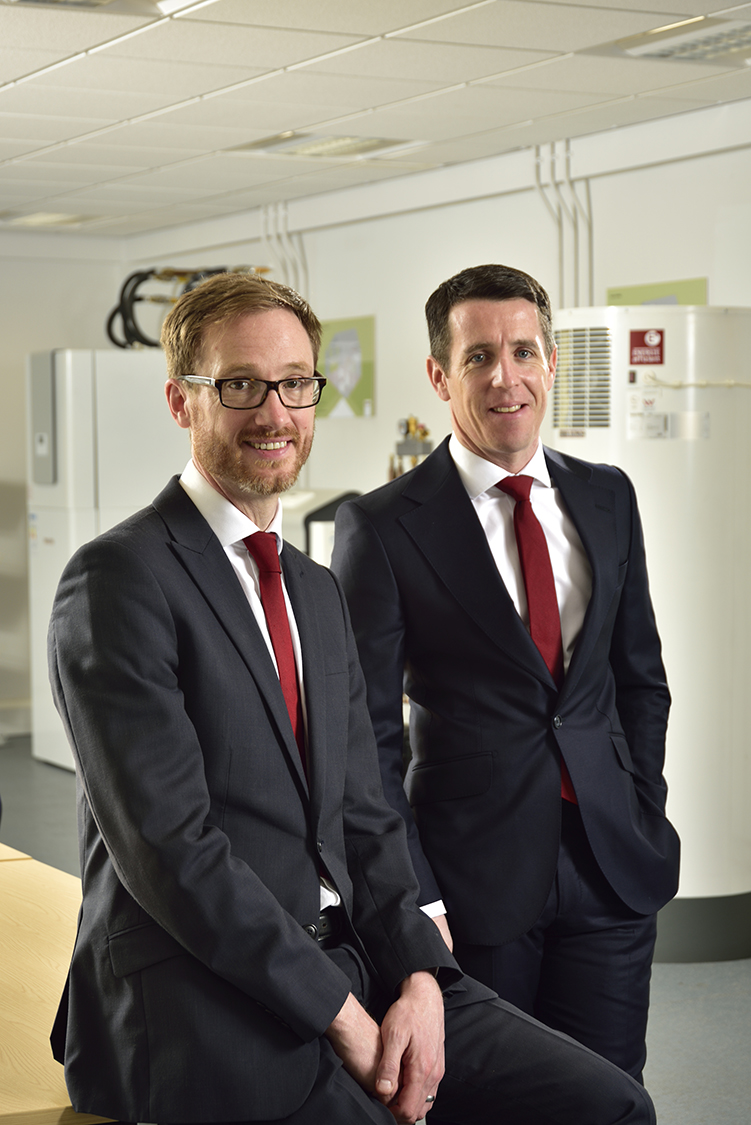 Managing Director Mark McManus (right) and Head of Technical John Felgate
Leading green technology manufacturer, Stiebel Eltron UK has announced it has completed the installation of two ground air source heat pumps helping to reduce the carbon emissions and energy costs at a National Trust property. This project is the latest in a series of installations which Stiebel Eltron UK's has completed on behalf of the National Trust.
Stiebel Eltron UK worked in partnership with WDS Green Energy to install two WPL 25 AS air source heat pumps at Dyffryn House in the Vale of Glamorgan, Wales. The two WPL 25 AS air source heat pumps were installed in East Gate Lodge and the Dyffryn House visitor centre. East Gate Lodge is a Grade II listed building which accommodates visitor toilets and National Trust offices and meeting rooms. The visitor centre is a purpose built timber frame structure with underfloor heating. Both buildings previously operated off traditional LPG boilers.

The combined estimated annual savings for both buildings has been estimated at £1,088 together with estimated RHI payments at £1,168 per year (at the non-domestic rate of 2.54p/kWh). The total annual benefit for both buildings has been calculated at £2,256 per anum. This means that the cost of both systems will be offset within 11 years, generating tax-free income for the National Trust until the end of the 20 year RHI payments.
Stiebel Eltron UK's new hydro tower was also installed in East Gate Lodge. The Hydro Tower is Stiebel Eltron UK's first combined hot water and buffer cylinder, measuring just 2.02m in height and a diameter of 0.55m, with 3.2m2 indirect coil surface area and 1.5m3/h maximum heating flow rate. The Hydro Tower works in conjunction with Stiebel Eltron's WPL Air Source range (WPL 10 ACS, WPL 13, WPL 15 AS, WPL 25 AS) as well as the WPF Ground Source range (WPF 5 (S) and WPF 7 (S). The Hydro Tower is a space and energy saving unit which is ideal for older properties.
Cafe at Dyffryn Gardens

Mark McManus, Managing Director of Stiebel Eltron UK, said he was delighted to have worked in partnership with WDS Energy on this latest National Trust project.

Mark said: "Over the last two years, Stiebel Eltron UK has worked extensively with the National Trust – helping the trust to cut their energy use across its estate. Installing renewable technology into heritage properties requires a great deal of technical expertise and we were delighted to work with WDS Energy on this latest installation."

In 2014, Stiebel Eltron UK installed the UK's largest marine source heat pump at Plas Newydd – a stately home owned by the National Trust. The 300kW pump, which utilises the tidal currents of the Menai Strait, is providing all the power needed to heat the National Trust property, the ancestral home of the Marquis of Anglesey. This set the stage for Stiebel Eltron UK to become known for its involvement in some of the most sophisticated heat pump installations in the country.
Throughout 2015 Stiebel Eltron UK continued to help the National Trust fulfil its recently-launched 10-year 'Playing Our Part' strategy – a ten year plan in which the National Trust has pledged to cut its energy use by 20% and acquire half of its energy from renewable sources.

Paul Southall, National Trust Environmental Advisor, said: "We have been working closely with Stiebel Eltron UK and WDS Green Energy at reducing the National Trust's use of fossil fuel heating at our South Wales and West sites. Renewable heating is an important part of the National Trust's pledge to source 50% of our energy from renewables by 2020, and by installing Stiebel Eltron air source heat pumps at Dyffryn Gardens to a bespoke design for the two buildings, we've drastically reduced our reliance on fossil fuels to heat this special place.

"WDS's professionalism and expertise in renewable heating has been invaluable during the process, giving us great confidence in the design and installation of the system. Working on older buildings like these can sometimes be perceived as problematic, but WDS worked closely with our own teams at each site to make sure the installations ran smoothly, and we're very pleased with the results."

Lewis McNulty, Company Director at WDS Green Energy, said: "We're very proud to be working with Stiebel Eltron UK to support the National Trust's transition to renewable energy. We've enjoyed taking on the challenging design and installation process for buildings like those at Dyffryn Gardens, taking into account the heat loss of the older building and the conservation implications, while ensuring the system meets the Government's specifications for the Renewable Heat Incentive scheme. We are very impressed with the quality of the equipment supplied by Stiebel Eltron."

In January 2016 Stiebel Eltron UK reported a 38 per cent increase in sales compared with its previous financial year. Stiebel Eltron UK is working with an ever growing network of installers to specify the designs and technologies for individual properties. In 2015 Stiebel Eltron installed more than 400 heat pumps in properties across the UK.