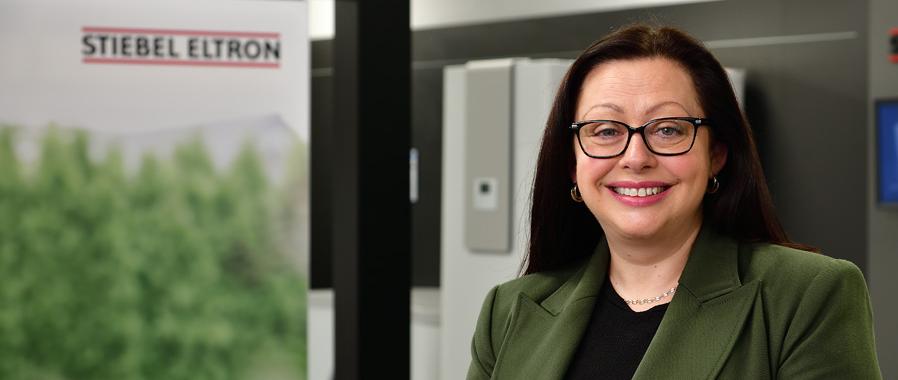 A word from Lynsey Green, Head of People
I was delighted to join STIEBEL ELTRON in August 2022 as their Head of People for the UK. Because we work hard to be an employer of choice in the region, I believe we have some of the finest people in the industry in our team. So what better way to introduce STIEBEL ELTRON UK than to let them tell you about it themselves...
STIEBEL ELTRON UK is Certified as a Great Place to Work
The company achieved accreditation after its employees cited the company's commitment to fairness, pride, and ethics during an anonymous survey.
We received a 94 percent trust score from members of staff which led to the company receiving the certification from Great Place to Work in the UK Small Business category.
Matthew Corkish, General Manager
When I came for my interview at STIEBEL ELTRON UK Ltd I was initially impressed with the amazing ambition of the MD Mark McManus. His passionate vision for the future expansion and development of the company, were one and the same with my own career expectations. And, despite the turbulent times of late with COVID-19 and the energy crisis, we have delivered on that growth, and continued to in invest for the future. The team, and culture that has been created, is both professional and passionate, whilst maintaining an overall relaxed and friendly working environment
Mollie Nourse, Administrator
I have been working at STIEBEL ELTRON since I was 17, and I'm now 21. since working here, I have made a tremendous amount of progress not only in the business but on a personal level also. From starting as an apprentice to being promoted into my current position my confidence has risen, and my skills have improved and are improving more each day. I instantly knew this is where I was supposed to be when everyone welcomed me with open arms. As the youngest in the team everyone has watched me grow into the person I am today, and I couldn't be more grateful for the support they have given me over the years. I look forward to seeing where this business can take me, and I am sure there are many more years to come!
Stuart Gillespie, Technical Support Manager
I joined STIEBEL ELTRON in 2012 as a sales administrator and have been with the company over 10 years. When I joined I had no experience of the renewable heating industry, but the with support of the STIEBEL ELTRON team I have been able to progress to the position of Technical Support Manager. I really enjoy the working atmosphere as we have an excellent team. Assuming everything goes well, I can happily see myself working with the company until retirement.
Alister Tetsill, Service Manager
My background was as a breakdown engineer for a gas company but always had one eye on the future in heat pumps and renewables. I got the opportunity to have an interview with John then Dean who are both very knowledgeable and easy to talk to. I have continued to learn each day and been supported when needed.
When I first started, I couldn't believe how helpful and friendly everyone was from people in the same role, sales, warehouse, and senior office everyone was great and welcoming which was a breath of fresh air from most companies I'd worked for before.
Stuart Galloway, Regional Specification Manager
I started with STIEBEL ELTRON UK back in 2007 when there were only around 12 personnel covering all aspects of the business. Germany have offered unrivalled support to us as a 'Team UK' and part of the greater German 'Team International'. We have seen incredible growth over the last, nearly 15 years, with new team members joining us both in external sales, specification and engineers and internal technical and sales / admin support. It has been and still is, a pleasure to work with such a dynamic and caring team who have one common ethos – the customer is our business.