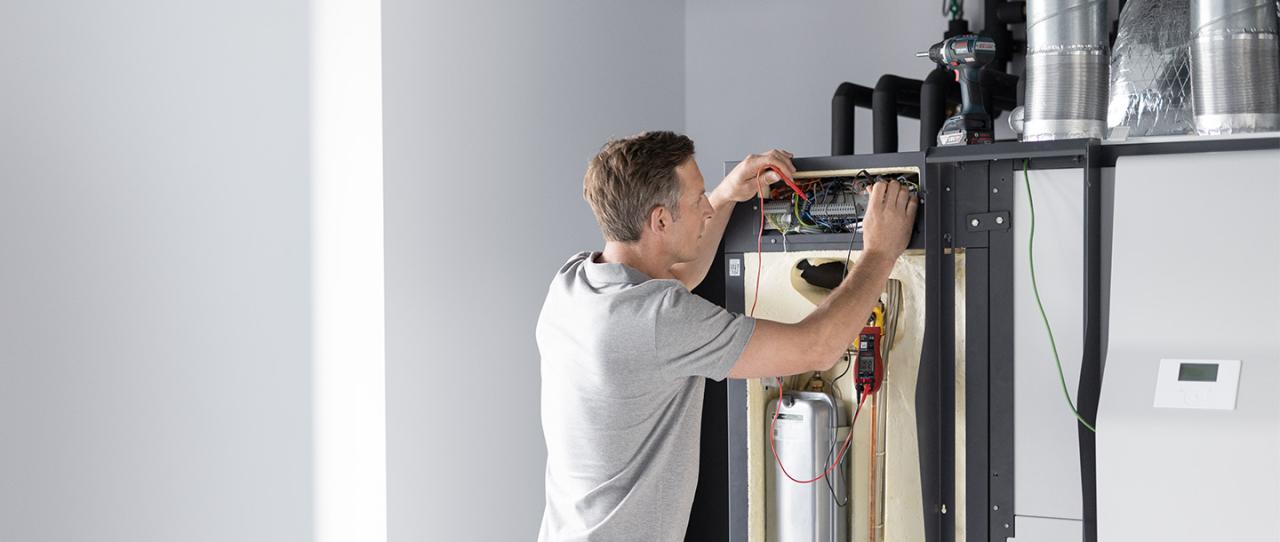 STIEBEL ELTRON as employer
Sustainable wellbeing – be part of our mission to advance green technology and boost your future prospects
How we see ourselves
With the development of the coil immersion heater in 1924, Dr. Theodor Stiebel revolutionised domestic hot water heating, and improved the lives of householders all over the world. A revolutionary product at the time, it laid the foundation for the company and inspired us in our clear mission: to use engineering skills to create innovative products of the highest quality.
Since then, one side effect has increasingly been a focus of our research: resource conservation through the development of products with substantially lower energy consumption and higher levels of efficiency, as well as the utilisation of renewable energy sources. STIEBEL ELTRON has now grown to become a leading manufacturer and supplier of high quality products for building services and system design.

Our creativity and our pursuit of technical and qualitative optimisation are still very much in evidence. We believe that if you don't go forwards, you go backwards. To us, going forwards means designing products with the aim of providing the greatest possible benefit for humanity and the environment.
In our quest to drive forward innovation and progress, we are always looking to welcome new employees to our team at STIEBEL ELTRON. If you would like to invest your energy in generating a better future, we would be pleased to hear from you.
Work-life balance
"Work" and "life": it's all about striking a healthy balance. Finding the right equilibrium between private and professional life is an integral part of our human resources policy. We create an attractive working environment for our employees in which flexible arrangements can be mutually agreed to suit private pursuits and interests. And vice versa.
We actively encourage balance. Indeed, as a family business, we believe we benefit from the particular value we place on looking out for each other's interests at STIEBEL ELTRON. We have already introduced countless initiatives that cater to the needs of mothers and fathers and enable a better balance between the professional world and private life.
Through consultation at all levels, we create appropriate concepts that facilitate delegation during parental leave. We offer flexible working time models that can be used by those who care for children or family members, for example.
Time with family is an important element of sustainable wellbeing. STIEBEL ELTRON helps to remove the obstacles that can make it difficult to combine work and family life.
Working environment and prospects
Work-life harmony as showcased in the Weser Uplands, around our headquarter in Holzminden, Germany: we champion and challenge, enable and expect – so that you can count on more: in your job, around your job, in the region. In addition to interesting tasks with plenty of freedom and a high level of responsibility, we offer you a wide range of development and recreational options. Topped off by healthcare and the scenic benefits of a popular tourist region.
Guiding principles and values
Companies are led by people; corporate success is achieved by people. That's why, at STIEBEL ELTRON, you are always part of a team – never left to go it alone. After all, people are only capable of completing tasks in the best possible way if the parameters are made clear – namely, if there is a common understanding of the goals, exactly how they are to be achieved, and how their attainment is to be measured. Progress towards the achievement of a goal is significantly faster if cooperation is based on values respected by all parties. All employees share responsibility for adhering to our corporate values.
In addition to responsibility and respect, our values include sustainability, openness and trust. These determine our business actions, ability to innovate and the way we interact with one other. Our value-oriented leadership culture helps to ensure that employees are committed and make a contribution to the success of the company through satisfaction in their work.
Our managers play a special part in development, optimisation and setting a daily example. They are role models and act as leading lights to promote our core values throughout the whole organisation. Our managers create scope for initiative and open up new opportunities. They actively support their teams in accomplishing their tasks. In turn, our employees are encouraged to be bold and inquisitive. This inspires confidence in their own abilities and trust in the company.