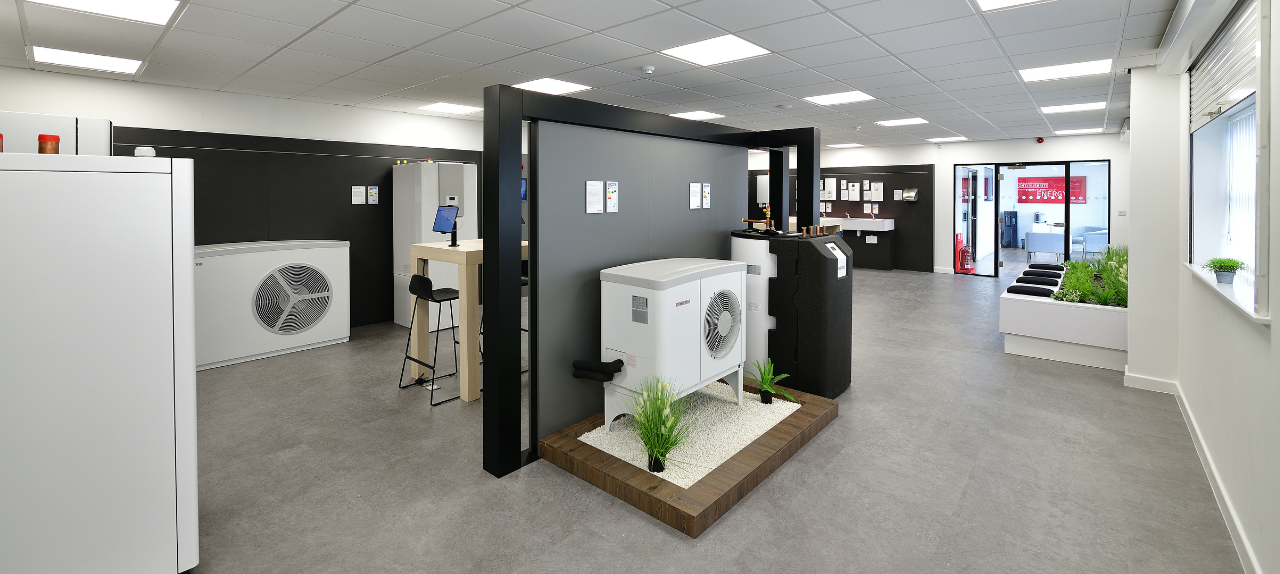 STIEBEL ELTRON UK the history
The UK subsidiary was established in 2008 and has grown every year since. Representing the same high product and service values as the rest of the global group, we have become both a nationally recognised brand and business rooted in our community around our head office on the Wirral. Read on below for some highlights of our history year by year
2022-23 Investment and ambition
2023
The company enters its 15th year of trading with huge for cause optimism! With targets to grow the business in very way, it's going to be an exciting year.
The company is certified as A Great Place to Work achieving a 94% Trust Score accreditation after its employees cited the company's commitment to fairness, pride, and ethics during an anonymous survey.
2022
Marking the 14th year of consecutive growth a new showroom and training room was launched. To meet the growing demand for heat pumps in the UK market the company invests over £350,000 in a state-of-the-art new facility to help develop the next generation of heat pump installers
2020-2021 Sustained growth and product innovation
2021
Despite supply issues caused by COVID-19, Brexit and the Suez Canal blockage, STIEBEL ELTRON was able to ramp up production to ensure demand was met to deliver a 70% increase in turnover compared to the same periods last year. As part of this the UK introduced the WPL Premium ground source heat pumps with a new low GWP refrigerant.
2020
Stiebel Eltron completes the UK's first 400V instantaneous hot water system installation. It was previously believed that the UK grid voltage levels of 240V prohibited these systems working in British homes. Stiebel Eltron, Watkin Jones and SP Energy Networks collaborated to make these viable in the scheme. They are now increasingly popular with developers looking to save space and improve SAP scores.
2018-2019 Awards recognition and ground breaking heat product technology
2018
STIEBEL ELTRON UK was shortlisted for both Domestic Heating Product of the Year and Renewable Project of the Year at the H&V News Awards 2018.
2019
In a year of new product innovation the company introduces ground breaking single phase bare wire water heaters that eliminate limescale issues and announces heat pumps with a new eco-friendly refrigerants.
The business wins Environmental Business of the Year at the Wirral Business awards
2016-2017 Ten consecutive years of growth
2016
The recognition of Stiebel Eltron excellence continues with the announcement that the company has made the National ACR & Heat Pump Awards Shortlist 2016 for no less than 5 times for its projects, products and collaborations.
The company has two nominations in the Domestic Air Source Project category, two further nominations in the Heat Pump Product category and one nomination in conjunction with Brian Jones of Total NRG for heat pump installer of the year.
2017
Stiebel Eltron UK is celebrates its 10 year anniversary with another year of record growth in 2017. The company's turnover rose 16 per cent year-on-year in 2017 due to ever-increasing customer demand for its growing product range and expansion into a range of new sectors including leisure and hospitality, and student accommodation.
2014-2015 Prestige projects win accolades
2014
Stiebel Eltron UK partners with the National Trust to install the UK's largest ever marine source heat pump – and the first ever in the open sea.
The groundbreaking project is awarded Commercial Project of the year in the national Energy Efficiency and Renewables award.
2015
In January 2016 Stiebel Eltron UK reported a 38 per cent increase in sales in 2015 compared with its previous financial year. The business is working with an ever growing network of installers to specify the designs and technologies for individual properties. In 2015 Stiebel Eltron installed more than 400 heat pumps in properties across the UK.
Projects continued to be recognised for their quality and innovation with more awards.
2012-2013 Commitment to quality brings rewards
2012
The huge growth of the UK business continued in 2012, and as a result the global business showed its confidence by increasing investment to help ensure that our service and product range just kept on getting better and wider. Highlights included:
Stiebel Eltron UK win the Stiebel Eltron International Challenge, for the best performing business in the Stiebel Eltron Group
Huf Haus choose Stiebel Eltron as a partner on their first UK commercial project, a stunning restaurant in Anglesey.
2013
In July company was accredited by ISO as a guarantee of robust and efficient systems that ensures best practice throughout its services.
ISO 9001 was first introduced in 1987 and requires organisations to demonstrate that they do what they say they do and that they have a quality management system in place to ensure consistency and improvement; leading to high levels of performance and customer satisfaction. Certified organisations are committed to continuous improvement and are assessed annually to ensure progress is being maintained.
2010-2011 Huge growth and award wins
2010
A year of outstanding growth for Stiebel Eltron UK against a background of economic uncertainty. With an 18 per cent turnover growth during the year the business completes major prestidgious projects such as the installation of the WWK 300 for the Financial Services Authority in Canary Wharf. The business also opened its first training room to help support partners.
In July the team were winners again at the Wirral business award, winning the Think Big award for the most innovative business.
2011
With a massive 47% per cent growth, the business continued to go from strength to strength. Highlights of the year include working with Worcester University to reduce carbon and running costs on campus with the installation of several different air source heat pumps.
2008-2009 Launch of new subsidairy - an award winning start
2008
With a rising interest in renewable technologies in the UK market the decision was made to invest in the UK market with a full business based in Bromborough on the Wirral. In Februrary the UK business is launched with the opening of the new head office and May saw the official opening of STE UK by Dr Stiebel, the Mayor of Wirral Cllr Adrian Jones and MP Ben Chapman
2009
in 2009 Stiebel Eltron wins Environmental Award at the Wirral regional business award. With over 100 installer partners already in place we were poised for growth.